(Last Updated On: December 8, 2022)
Bullet Points:
【All-Natural & Pure lemon essential oil 】MYRITUAL Lemon essential oils are exactly 100% organic, Professionally steam distilled & extract .Carefully sourced and bottled with responsibility under strict standards , Unadulterated. No harmful chemical fragrances added. Firmly Fresh and Elegant Lemon aroma made from the highest quality Citrus Plants in our Mediterranean mountains. sweet fresh strong citrus scent that's uplifting, energizing, and promotes optimism.
【Perfect For Aromatherapy】Our Liquid Sunshine Organic Lemon essential oil  is the most powerful anti-microbial activity of all the essential oils . Put 3 to 4 drops into a diffuser and breathe in the fresh and citrusy aroma , it Reduces feelings of anxiety and increase happiness ,Aid natural healing.
【MYRITUAL Lemon Essential Oil is Many-Sided Benefit】Pure Lemon oil is the major lemon flavor agent used in lemon-based drinks, toothpastes, shampoos, detergents, and creams. It is also used widely in other types of non-lemon flavor essence, especially in chypre, fougère, cologne, and lavender perfumes, where it provides the well-known"top note".
【Essential Oil Takeaway】MYRITUAL Lemon Essential Oil has the strongest anti-stress affect and powerful antioxidant properties.A lot of people like lemon oil. Lemon oil organic appears to effact 5-HT1A. it can be diluted and applied topically that  clears your skin, kills harmful viruses and bacteria, and reduces inflammation.
【HIGH QUALITY GLASS BOTTLE & DROPPER PROTECTOR】Our bottles are perfectly protected from damaging UV rays and risk of rapid evaporation, Delivered with a premium quality glass dropper for ease-of-use and Flower Basket Cover (Protector) to prevent you from squeezing the rubber tip by accident when you put thoae bottles into your bag.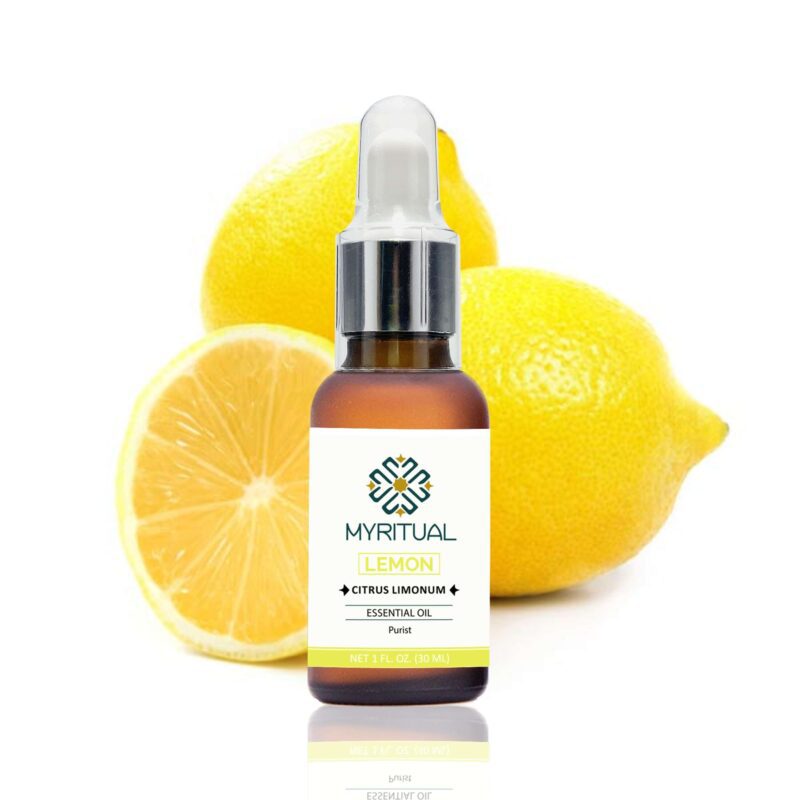 Scent:

Lemon 

Ingredients:

Citrus limon (CITRUS LIMON PEEL OIL)

Brand:

MYRITUAL

Family:

Citrus

Plant Part: Citrus Rinds
Extraction Method: Steam Distilled
Note: Top
MYRITUAL Lemon Essential Oil – How To Use:
5-10 drops in one tub bath

4-5 drops in a vaporizer

3-5 drops in 10ml carrier oil

7-12 drops essential oil to 1 gallon of water
Ingredients:
Only one Ingredient (100%
Citrus limonum
Oil)
            Storage:
Secure the cap. Store in a cool, dark place.
Cautions:
FOR EXTERNAL USE ONLY.
Keep away from the eyes.
Keep out of reach & sight of children.
Use caution if pregnant.
Highly concentrated.
Always dilute before use.
Description : 
Lemon essential oil comes from cold-pressing the lemon peel and not the inner fruit. It's been used in Ayurvedic medicine for over 1,000 years and is valued for its anti-inflammatory, antioxidant and antimicrobial properties.
Lemon is a very versatile essential oil, as it can be used for cleaning, as a beauty product and to boost your health.
The top health benefits of lemon essential oil include its ability to:
relieve nausea

improve digestion

nourish the skin

promote weight loss

purify the body

boost oral health

relieve cough and other respiratory issues

inhibit the growth of bacteria

work as an anti-tumor agent
Lemon essential oil is one of the most easily recognized oils because of its refreshing, energizing and uplifting scent.
The health benefits of lemon oil can be attributed to its stimulating, calming, astringent, detoxifying, antiseptic, disinfectant and anti-fungal properties. 
Lemon oil was found to have the strongest anti-stress effect. With various medications, they deduced that the anti-stress effect of lemon oil was related to the suppression of dopamine activity related to enhanced serotonergic neurons.
In a nutshell, the lemon oil caused the mice to have less stress through a pathway that has been shown in humans to relate to stress-reduction.
*Important to note:
Lemon essential oil can make your skin more sensitive to sunlight. When using lemon essential oil directly on your skin, it's important to stay out of direct sunlight for at least 8 hours and use a sunscreen while outside. 
How to use it safely:
Always do a patch test to make sure it doesn't irritate your skin and always dilute it first with a carrier oil before putting it on your skin. Make sure you follow the manufacturer's guidelines on how to use it. Citrus oils, such as lemon oil, have also been known to increase skin sensitivity in the sun. Lemon oil should never be applied immediately before going out in the sun and sunscreen should always be used to help prevent sunburn.
10 Ways to use Lemon Essential Oil
Skin Care –
Lemon essential oil is astringent and detoxifying. Its antiseptic properties help in treating and clearing skin. Lemon oil also reduces excessive oil on the skin. Add a few drops of the oil to facial cleanser to help remove dead skin cells. 
Laundry –
Add a few drops to your laundry cycle or to the final rinse cycle to freshen up your laundry. Your washing machine will also smell clean.
Disinfectant –
Lemon oil is terrific to disinfect wooden cutting boards and kitchen counters. Soak kitchen cleaning cloths in a bowl of water with several drops of lemon oil to disinfect.
Degreaser (goo be gone) –
Very effective in removing glues and labels that are difficult to remove. Lemon oil will also remove grease and grime from hands as well as tools and dishes.
Mood Booster/Concentration –
Diffuse in the room or place a few drops in your hands, rub and inhale.
Insect Repellant –
Bugs are not in favor of lemon oil. Combine lemon with peppermint and eucalyptus essential oil along with coconut oil for an effective repellant.
Hair/Nail Care –
Lemon oil is an effective hair tonic and helps to eliminate dandruff while strengthening the hair.  
Immune Support –
Mix a few drops of lemon oil and coconut oil and rub on the back of the neck. 
Feet Care –
Add a few drops of lemon oil to help treat callouses, corns, and bunions. 
Wood Polish –
Mix olive oil and several drops of lemon essential oil in a glass spray bottle. Spray on wood to be cleaned and rub in circular motions with a soft cloth.
Disclaimers:
The International Federation of Aromatherapists does not recommend that Essential Oils be taken internally unless under the supervision of a Medical Doctor who is also qualified in clinical Aromatherapy. All cautions listed for individual oils do not include those cautions from ingestion. This statement has not been evaluated by the Food and Drug Administration. This product is not intended to diagnose, treat, cure, or prevent any disease.